It is a time of blessing as girls mature into womanhood and their bodies change physically, emotionally, and spiritually. It is also a time of discovery, where they learn how they are wonderfully and fearfully made by our Creator.
Maidens by His Design
Maidens by His Design is a curriculum for young ladies that teaches how God has fearfully and wonderfully created their bodies. It is a godly approach to teaching daughters 8 and up how their bodies are created to function.
We know that most moms need support and guidance on how to begin this conversation with their daughters and we're sure you will learn something too. There is a lot of negativity and often embarrassment surrounding these topics but that is not honoring to God. The course instructs them on how God has fearfully and wonderfully made each one of us, beyond basic biological "facts". This knowledge is essential to understanding the other phases of womanhood.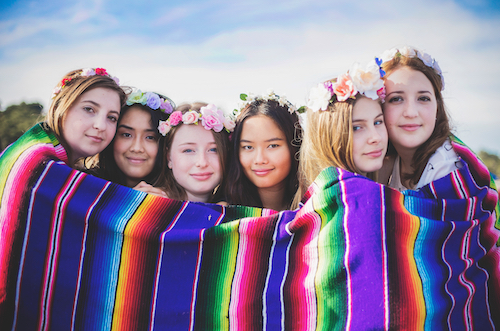 The Course
This course teaches how God has fearfully and wonderfully made each one of us, beyond basic biological "facts". This knowledge is essential to understanding the other phases of womanhood. It will act as a great starting point for you to further your knowledge on how to care for and respect your body as God's temple, allowing you to look ahead with great anticipation and not fear for the other milestones that await you as a woman. This course will be fun and engaging, and will include resources and ideas to inspire you to continue communication with your daughters.
Topics Covered (Colored Box)
Basic female reproductive organs
Hormones
Cycle length
History and various cultural information
Tools and gear
How to celebrate womanhood in a Godly manner
How to take thoughts captive
How to erase a spirit of fear
How to learn about herbs that are helpful for that time of the month
Good nutrition, and more!
Teacher Training
This is the training you have been waiting for. This is NOT a workshop to teach the girls, this is a workshop series to teach women to teach this curriculum in their neighborhood and communities.
I will go over each chapter with you, explain how I have been teaching the past 18 years and offer suggestions and guidance for getting you started.
The information here is vital to the understanding of women's health and our bodies. God created us fearfully and wonderfully. Let us come together to teach our daughter's, and the next generation, about our unique design and function.
This curriculum has existed for almost 20 years; impacting the lives of mother and daughters internationally. It is time for you to consider, and pray, about bringing this information to your circle of influence. To your community of women of all ages.
Each class will be taught on Zoom conference call. The calls will be recorded and available for 5 days after each call. You will be added to a secret group, on Facebook, to converse and ask questions and catch up on resources and handouts.
Week One: Intro, Setting Up, Materials, Tips and Tricks of Trade
Week Two: Why this Course, Definitions, Menstrual Cycle, Menses
Week Three: Blood Talk, Tools & Gear
Week Four: Addressing Fear, Scriptures, Mental Health, Thoughts Captive
Week Five: Hormones, Charting, PMS, Helps & Devotional
Week Six: Physical Changes, Peer Influence, Body Alignment
Week Seven: Story Sharing, History, Cultural Differences
Week Eight: Nutrition, Herbs, Dietary Deficiencies, Alternative Therapies
Week Nine: Hydration, Exercise, Taking Responsibility, Scripture
Week Ten: Abnormalities, Hygiene, Self Care
Week Eleven: Celebrating, Evaluations, Certificates, Quizzes
New Online Training to help moms/women take the curriculum and teach in their communities – train from the comfort of your home! Only $120 for all 6 weeks plus materials and curriculum included. $85 registration fee for local workshop covers the cost of workbook and all materials are supplied.
"We are excited to announce the new and expanded Maidens by His Design curriculum now available on Amazon!"